Curiza's RISE Strategy
Curiza's R.I.S.E. – Resurrect, Incubate, Support & Expand business engagement model powers partners​' global growth initiatives at multiple levels.
Focused on expanding partners' businesses, there are 4 challenges we help overcome with professional ease:
Using our Subsidiaries or Strategic partner network to build a superior international business.
Evaluating partner portfolios to provide forecasting and regulatory planning.
Support of the project in its entirety including monthly updates on selected products through our customer engagement model.
Registration of products and fine-tuning of the supply chain.
Our RISE partner engagement & business deliverables are the product of successes of hundreds of diverse partners, spanning all continents over the past 2 decades.
Partner growth & outcomes continue to be impressive with the following achievements:
Time to market lag times reduced by at least 50%.
Investment expenses lowered by over 40%.
Revenue Increased 4-7 times than achieved by distributors/importers.
Elimination of management errors allowing partners to focus 100% on generating more business with better ROI.
Leveraging of all available tax benefits while minimizing liabilities.
Resurrect:
Create & build better brands with better outcomes.
Remove Red Tape.
Quick & Effective Market Access.
Minimize Financial Risk.
Managed Expert Supervision.
Incubate:
Harness advantages of a fully operational network.
Product portfolio optimization based on market analysis and regional regulatory requirements.
Minimal Risk Exposure.
Consistent customer advice & best in class support at every stage.
Support:
Deliver comprehensive support allowing partners to focus on boosting sales/revenues while expanding business footprint intelligently & cost effectively with:
Administrative support.
Regulatory support with legally aligned business Terms.
Agile IT support & cybersecurity.
On time payment and business continuity.
Widely trusted network of business partners for every business specialty.
Expand:
Grow more, expand faster in lucrative new regions.
Sales Setup & business modeling/Ownership.
Proven partner engagements.
Key Account Management to maximize ROI.
Scale up for operational expansion.
Detailed Analysis with custom restructuring where required.
Professional and knowledgeable Legal Support.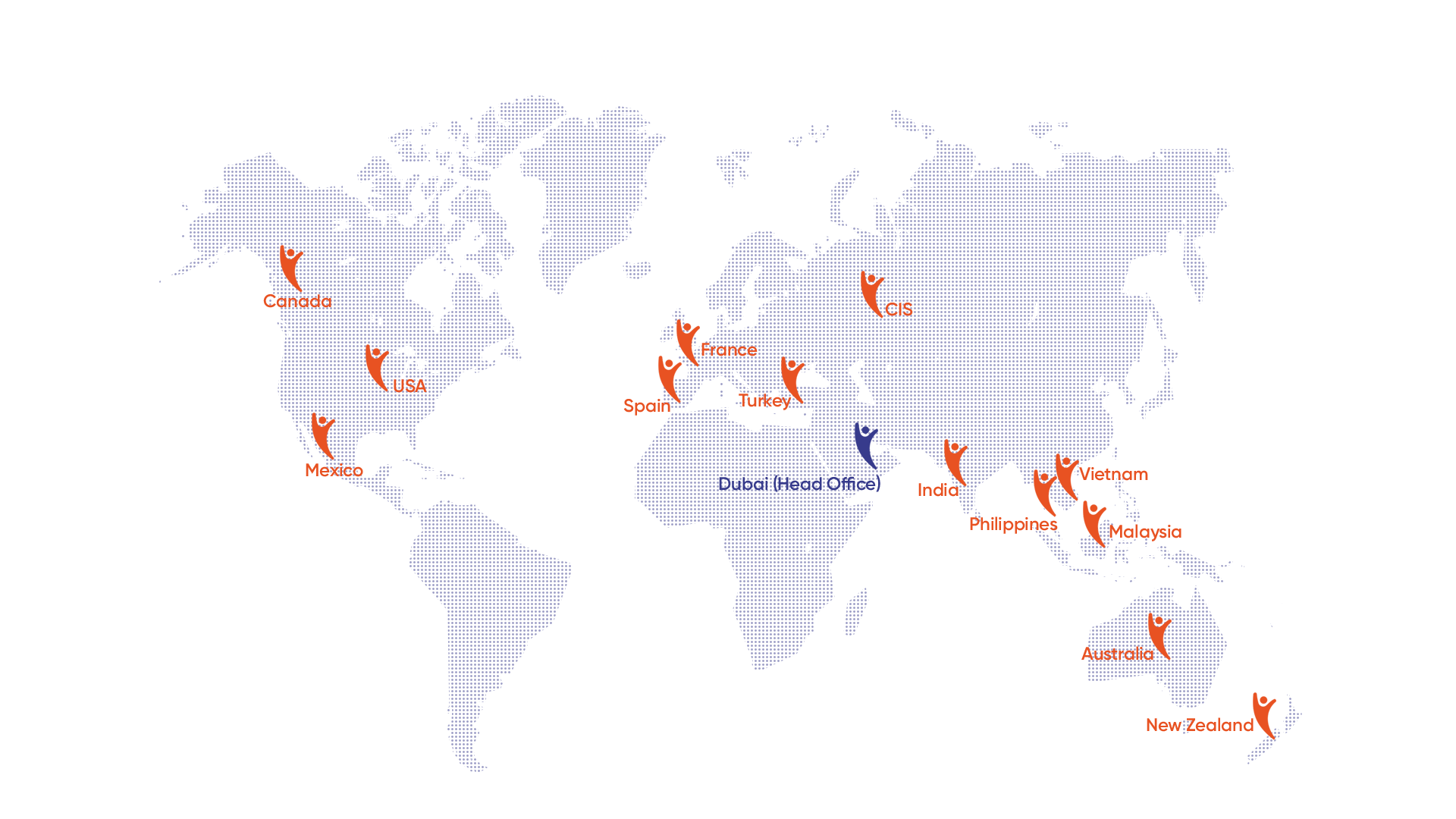 Registered Office
P-2, Hamriyah Business Centre,
Single Hamriyah Free Zone,
Sharjah, United Arab Emirates.
Phone Number:
+971558955008, +971543366376
India Office
511 Best Business Park,
Netaji Subhash Place,
Delhi , India
Phone Number:
+91-1147522503
Europe Office
Calle Alfonso VI, Numero
13, Planta 4, Piso 409,
28343 Valdemoro, Madrid
Phone Number:
+34 690946534
US Office
655 Highlandia Dr, Baton Rouge,
LA 70809, United States
Phone Number:
+1 866-747-7365